Christ Church – Coggleshall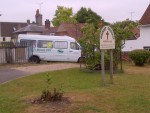 We are been working with Christ Church when we first did an outreach in Coggleshall in 2013. We visited the church and received a warm welcome. We have been there three times since and Marina is speaking at the church on Sunday 20th September at 9.45am. Please come and hear what she has to say.
Here are the Church details.
Christ Church
Community Groups & Halls
Stoneham Street
Coggeshall, Essex, CO6 1UH
Tel: 01376 561 182
Web: visit our website
CHRIST CHURCH, COGGESHALL
Secretary: Doreen Wiles – 01376 561182 – doreen.dot@btinternet.com
For hire of hall please contact the Secretary
CHURCH ACTIVITIES
Sunday: Morning Worship 10.30am
God's Diamonds (children's group) 10.30am
(Holy Communion 1st or 2nd Sunday in the month)
(Contemporary Worship usually with visiting worship group, third Sunday in the month)
Evening Worship 6.30pm
Wednesday: Home Group @ 9 Kelvedon Road 7.45 for 8pm
Thursday: Coffee & Chat and Mums & Tots 10-12noon
** After School Homework Club 3.30pm
** Anim8z (school years 7,8,9) 4pm
** L8rz (school years 10+) 5.30pm
(** Contact: CPYWT Youth Worker – Jules Caprioli-Blake – 07888 655131)