Cheryl's Testimony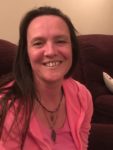 How Jesus Changed My Life
---
At the age of 8 years old, me, my sister and my brothers were taken into care, during this time I moved around a lot until finally ending up in a boarding school in Hertfordshire where I met my husband to-be Lance.
Lance was 17 years old and I was 16 years when we met. After a few months of dating we ran away to Cambridge, we stayed in a Bed and Breakfast where we me a Christian couple who in exchange for helping us fill out council forms, told us about the 'Good News' of Jesus and how he had died on a cross because he loved us so much. I was quite overwhelmed at this as I'm sure Lance was and so we became Christians and was baptised.
Over the course of my 15 years of marriage to Lance we had many 'ups and downs', was having to fight social services in court so we could stay together as a family, whilst having 2 beautiful children to care for. During these years, Lance quite quickly became dissinterested in God and the church and more dependant on drink and drugs, whilst it felt all I was doing was clinging on to God hoping things would eventually get better, they didn't! In the end Lances 'One night stands' turned into an affair lasting for months, I found out and we separated, despite the churches efforts to keep us together and work things out.
I continued to work with God the best I could looking after my children whilst completing a course in childcare and education (NNEB) which after two years I passed :), during this time Lance and I decided to give our marriage a second go. Unfortunately during our separation Lance had got involved with a group of people who were quite heaverly into drugs, a world I suddenly found myself caught up and lost in. It got to a point where I knew God was with me all the way through this time which gave me hope.
I few months later that hope was answered, although at the time it didn't feel like it. I found out I was pregnant! I was horrified for a number of reasons, but this was the escape I needed. I stopped taking drugs and we had our 3rd child. Lance continued taking drugs and living that lifestyle. So within a few years we separated again and divorced. I just couldn't bring up another child in that sort of environment. Not long after I met my second husband who is also a Christian, which I can truly say makes life a whole lot easer. I am so blessed to have found this happiness and no longer feel like I'm just trying to survive this life. Cheryl