Community Bus
What is the Community Bus?
Community Bus is a not for profit transport service run by volunteers Nick and Marina the founders of The Healing Bus mobile prayer ministry.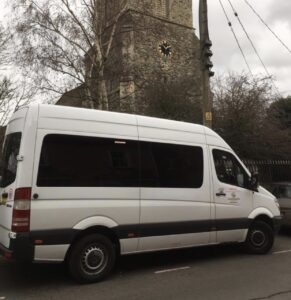 We wanted to find a way to help people in our community that cannot use a conventional bus service because of their rural location.
The Healing bus works in close association with Community Bus a 'Not for Profit' transport organisation set up by Nick Price in 2013 and The Margaretting Relief in Need Trust, helping old, and disabled people living in the rural location of Margaretting. Every Friday Nick has been transporting members from Margaretting to Chelmsford Tescos to get their shopping, helping them in the vehicle with their shopping and driving them back to their homes. During the pandemic Nick continued getting their food shopping himself and delivered it to their doors as they couldn't get out in fear of COVID and because of Government Restrictions.
Community Bus provides free transport to members only for people located in Chelmsford and the surrounding areas only.  There is an annual membership of £20. Anyone that requires minibus transport has to agree to join as a member of the charity and have an association with The Healing Bus Charity.
For more information please call Chelmsford (01245) 264165 for further details or to join as a member.
Community Bus is part of The Healing Bus Charity.

The Healing Bus is a registered charity in England and Wales (Charity No. 1159619).
VAT No. GB 183 1974 84 (Community Bus)
Email: communitybus@btconnect.com
Website: www.thehealingbus.org/communitybus