The Lord hears our prayers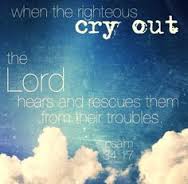 The Lord rescues us.
---
The Lord hears his people when they call to Him for help. He rescues them from all their troubles. The righteous person faces many troubles, but the Lord comes to the rescue each time. The Lord looks after those who love him. We are living in a time where staying away from God is to live at your own risk, in a world that is crying out for help to try and fill a void that only God can fill. He is there for you, His arms are outreached and waiting to embrace you as you come to him. The Fathers desire is to shower you with his love. He knows our every situation and in that context he knows how to resolve our situations. Come to Him today, and lay your troubles at the foot of the cross and let our Father make a way when there appears to be no other way. Remember, Nothing absolutely nothing is impossible for God!
---
Jesus looked at them at said, "With man this is impossible, but with God all things are possible" Matthew 19:26.