Corringham Baptist Church
Recently we were delighted to have been invited to share at The Corringham Baptist Church. We had a wonderful time of worship, Marina shared the word and spoke about the story of the ministry and how started. Then we had communion and prayed for people with needs afterwards. Later we had a lovely fellowship lunch together which was nice.  God is working in peoples lives in Corringham. We look forward to visiting the church again soon!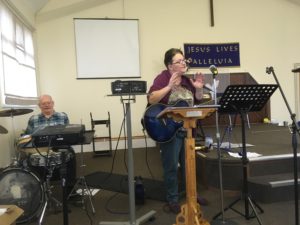 If you would like us to speak at you church or Christian meeting then just get in touch, we would love to hear from you.