Our Team
Our Trustees & Committee Members
The Healing Bus is set up as an Unincorporated Association run by a Membership Committee. The following people have been elected by members of the committee. If you'd like to become a member of the committee which is open to anyone over the age of 18, please contact us on 01245 264165 or email us at thehealingbus@btconnect.com
---
Marina Price (Chair)
Marina's retired from business and spends her time hearing from God! She has visions and words for people to encourage them to receive prayer for God's healing touch. Marina is a gregarious person and has a strong testimony of how she survived a fire whilst working in the missionary field in France; and how God spoke to her in 1994 while she was with World Horizons. Marina is married to Nick.
---
Nick Price (Trustee & Treasurer)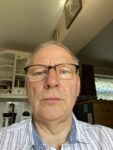 Nick owns a small wholesale business, and holds a PCV bus license, so he's the one that drives our minibus. Nick's married to Marina and they've got two grown up children, Kerry and Reuben.
---
Anne Fraser (Trustee & Safeguarding Officer)
Annie is our Safeguarding Officer and a County Court Solicitor. Annie has a long a varied career in the legal profession and is married to Donald, (also a Solicitor). They have two grown up children Elizabeth and Christopher.
---
Rosy Baxter (Trustee & Secretary)
Rosy has worked as a secretary at Marconi for 9 years and also to the vice Dean of the Cathedral in Chelmsford for 14 years, prior to that she was a PA to the Cabinet for Luapula Province in Zambia until she resigned on marriage.
---
Nick is a businessman and works for a Systems management company. If you ever come to our 'In His Presence' monthly meetings or visit North Springfield Baptist Church, you will see Nick either playing his colourful trombone or waving a flag. Nick is married to Rebekah and they have two grown up children.
---
I