About Marina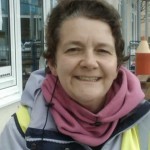 I was born into an Italian family, all my grandparents were from Italy, but I spent most of my life in the UK. I've been a Christian since 1976, and am married to Nick. We have two children, Kerry and Reuben. Before I was married, I spent five years with Youth with a mission (YWAM) in England and Wales, mainly training in evangelism, leadership and prayer. I also spent three years with World Horizons based in South Wales; they are a prayer mission-based movement. I have also completed a counselling course with Barnabas Trust, too. I've spent many years as a worship leader; I'm a singer-songwriter with a powerful testimony of how God changed my life. I am often asked to speak, and have a prophetic edge when sharing, often bringing words from God before inviting people for prayer.
If you would like me to come and speak at your meeting or church, please contact me on 07887 527762.
Thank you, Marina.
E-mail: marinaprice@hotmail.co.uk

The Healing Bus Prayer Ministry
List of some of the places Marina has worked as a missionary, worship leader and a speaker.
YWAM Outreach in Brighton, United Kingdom

YWAM Outreach in Scotland

YWAM Outreach in Ireland & Republic of Ireland

Outreach in Spain

Leading Worship and Preaching in France

Leading Worship in Tower Hamlets Community Church

Outreach in Athens, Greece

Outreach in Istanbul, Turkey

Outreach in Greenwich, London

Outreach in Lodz, Poland

Leading worship in Chelmsford Community Church

Leading Worship Elim Church, Ingatestone

Leading Worship and Preached at Souling & Healing Chelmsford

Leading Worship and Preached at Praise & Worship Chelmsford

Preached at Mayland Baptist Church

Preached at Elim Ingatestone

Preached at Elim Braintree

Preached at Elim Maldon

Preached at North Springfield Baptist Church

Preached at Women's Aglow International meetings at Sudbury, Colchester and St. Ives.

Preached at The Good News Church – Harold Hill

Preached at Christ Church – Coggleshall

Preached at URC Church – Halstead

Preached at URC Church – Danbury

Preached at URC Church – Chelmsford

Preached at The Kingsland Church – Tiptree

Preached at The Newington Free Church – Ramsgate

Preached at The Tollesbury Congregational Church
Preached at Corringham Baptist Church
Leading Worship in the 'In His Presence' Meetings at North Springfield Baptist Church