Hope for Everyday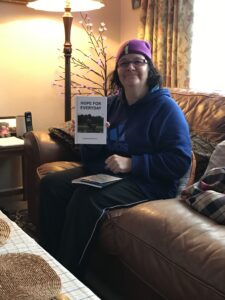 Hope for everyday is a book that will help in everyday life. It gives a daily short reflection on a time or story in her life which is very moving and helpful. Then there is a short conclusion with talking to the Lord. This book is written to help focus on God and to get used to it. It's very down-to-earth, simple to read and to explore. There are 100 short daily readings which are there to encourage you. Marina likes to write simple books so that everyone; young or old can benefit from them. We hope and pray that this simple book will be a real source of encouragement to you as you spend time looking and reflecting on Jesus our friend.
---
" I just love Marina's latest book, Hope for Everyday. We can all identify with so many of the situations and feelings she describes; disappointment, frustration, fear, anxiety, anger, and of course, gratitude. Marina shows us that whatever situation we find ourselves in, Jesus is there to help us and support us. He is here with us all the time, not just on Sundays or during worship services". Rosy
To order Marina's new book Hope for Everyday please use the contact form below. Thank you.